Hey girl, clouds got you down?
Life is just so bland at the moment so, to perk everyone up a bit, I've put together a weekend of colour focused posts: first up comes newly launched accessories brand, Midsummer +1.
Handcrafted by artisans in Kolkata, India, each of the clutches and purses are made using the traditional Bengali technique of Shantiniketan: bold patterns are embossed onto supple leather and then finished by hand-painting bright colours onto it.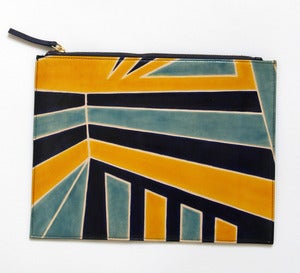 Midsummer +1's first collection 'Dazzle' features bright colours and bold patterns, complimented with simple forms and refined hardware. In fact, it was inspired by the futuristic style camouflage painted on WWI warships - the geometric shapes were intended to distract enemies, rather than disguise the ships.
SS Empress of Russia
The line has a great social ethos too: each design is produced by a fair trade co-operative, established in 1977 to ensure artisans are given fair salaries and good working conditions - and support several community schemes along the way.