Today sees the start of a new Chic & Cheerful regular: the fashion news round up. Every week we'll be summing up the latest fashion news you may have missed in one handy post - so let's get started!
This season's Primark menswear - not too shabby!
Yes ladies and gents the rumours are true: Primark is to open two concessions in the Manchester Trafford Centre and Birmingham Bullring Selfridges stores.
However, the sad news is is that the 100 piece collection is menswear only. I know, I know, what are they thinking?! Surely this would be an amazing opportunity for the high street chain to put together a limited collection for us girls? Apparently if this venture is a success, bosses are keen to expand but there are no plans for a womenswear collection as of yet. Boo!
Image (c) ElleUK.com
2. Mary is coming back to Topshop
When all the fashion editors were invited to see the Spring/Summer 2012 Topshop offerings this week, Twitter went crazy. Sure there were some typically gorgeous pieces on offer but that's not what everyone was so excited about. It was the news that Mary Katrantzou was bringing her gorgeous demi-couture dresses to the High Street. Only one image of the Mary/Topshop collaboration has managed to make its way onto the internet but, as you can see, it's very similar to her Autumn/Winter line - although without the £8,000+ price tag.
The line is coming out next season, as is Mary's range for Longchamp (stylish bags with extravagant prints? Where do I sign up!), meaning we get even more of the gorgeous Greek's sensational work at affordable prices.
More Katrantzou treats at Longchamp
3. Elle Collections redesign
Ah Twitter, you offer such a legitimate way of Facebook stalking. This week, the news that my favourite magazine (and an absolute must read for all fashion lovers) is to undergo a redesign before its next issue early next year. Collections Editor Avril Mair tweeted blogger Bryan Boy the good news - and has apparently asked him to do some work for the mag. Eek!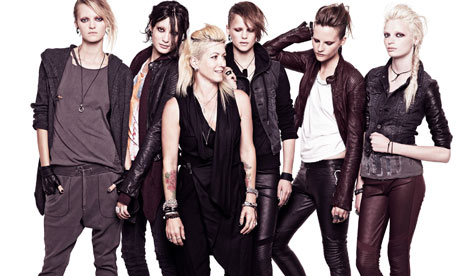 The girl with the H&M tattoo?
It's just over two weeks until the Versace for H&M collection launches so you'd expect H&M to be pretty busy right now. But the fashion chain has managed to squeeze in another collaboration announcement. As of mid December, clothes inspired by The girl with the dragon tattoo protagonist Lisbeth (and designed by the upcoming film's costume designer Trish Summerville) will be hitting the shops. Expect lots of punky, grungy looks, perfect for Winter style.
Well, this may not strictly be fashion news as such but we have a very exciting announcement: this little website won best lifestyle blog runner up in the 2011 Wales blog awards!! The judges loved our sassy take on fashion and unique opinions pieces. Thank you so much for your support over the last eight months, its very appreciated - and we look forward to bringing you more of what you love here at Chic & Cheerful.