Emmanuelle Alt - image from missetoiles.blogspot.com
After reading Hilary Alexander's profile of Emmanuelle Alt last week, I was on tenterhooks waiting to see what the new editor of French Vogue's first cover would look like. I expected something dark, grungy and very edgy but instead received a very big surprise.
Click through to see the cover...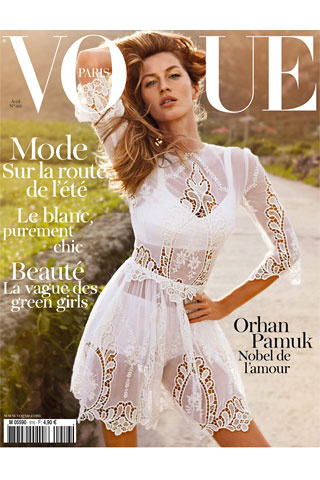 Vogue Paris, April 2011
Gisele Bundchen in a S/S 2011 lace dress from Dolce & Gabbana on location in St Barts? This all seems a little bit too safe to me. I was expecting Agyness Deyn in some fabulous unknown's designs. I wanted lots of black and thick red lipstick with ripped tights and a splash of androgyny.

Disappointing as it may be, Alt is most certainly staying true to her style. She has been quoted on numerous occasions saying she does not wear make up nor does she exercise. This relaxed image of Gisele in the Caribbean landscape with no accessories, looking oh-so-natural appears to be Alt through and through.
It may not be a drastic first cover but already we can see Emmanuelle Alt making her mark on the fashion world.
C'est magnifique.